Cinema industry reels in film fans with Star Wars
The Force was strong with Cineworld last year as box office takings soared 11.6%.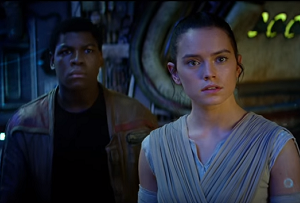 The film industry is nothing if not resilient. Despite threats from piracy and the rising likes of Netflix and Amazon Prime, cinemas are continuing to draw in customers, as Cineworld is keen to point out in its latest trading update.
The cinema chain's revenues for the year were up 12.3%, including an 11.6% jump in box office takings. That was driven by a series of blockbusters that played a starring role in boosting fourth quarter sales – James Bond's latest outing in Spectre, the final instalment of The Hunger Games and Star Wars: The Force Awakens. The group said it expects profitability for 2015 to be in line with market expectations after posting double digit revenue growth across the board.
Cineworld claimed the rise in admissions alongside the diverse range of films on show contributed to a rise in retail revenues too – up 13.7%. So even the ridiculous price of popcorn hasn't been putting off people that much. The cinema operator has also been rolling out more Starbucks outlets in its UK cinemas – up to 17 at the latest count.