Is your CIO holding your company back?
Some call it the Sunday night/Monday morning syndrome. After effortlessly multi-screening through Facebook, Twitter and Google while shouting at the ads on Downton Abbey, we come to work and are irked to find that our PC takes ten minutes to boot and the systems designed to help us do our jobs do not work as we want them to. The gap between our home IT and our office IT is a chasm. Who do we blame?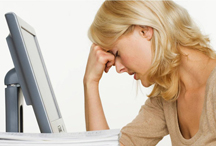 Well it turns out we blame our CIOs and heads of IT. PSB interviewed 300 IT decision makers in Western Europe and found that rather than being perceived as innovative, business strategists, 38% think that their colleagues see them as a barrier to using the tools and services they want. And in some cases this is true: 23% are holding out against supporting bring your own device to work.

But their image problem is more complicated than just being a barrier. Colleagues also see their IT departments as Big Brother watchers and enforcers: one in three says their colleagues think they spend their time monitoring porn and one in four that the spy on emails. Other colleagues dismiss them as lazy geeks and nerds who press CTL+ALT+DEL in response to any issue.

Despite all these associations, however, we expect our IT heads to perform daily miracles: recovering data that's never been backed up and being on call to deal with any problems well beyond normal hours. Bosses are particularly guilty of seeing their IT colleagues through the prism of their own immediate needs, and are often the most responsible for the headache of integrating personal devices securely.

What comes across strongly in the research is the struggle between the need to fire-fight issues day to day while simultaneously moving from being a cost-centre/support function to a driver of growth. This is something that many want to do, but at the moment, most feel their core role is to the keep the wheels turning and to keep data secure.
So, surely the successful CIOs of the future will have different role? To deliver on this, they say they want much more input from the rest of the business so they can understand their needs and deliver business growth. Time for us all to start talking to - and about - our IT heads in a very different way.