Citroen DS5 Hybrid4 review
The Citroen DS5 Hybrid4 has bags of character, in spite of being aimed at company executives, says Sathnam Sanghera.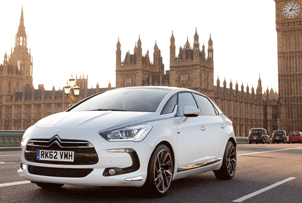 Citroen was once the Boris Johnson of car manufacturers. The idiosyncratic models it churned out in the 1950s, 1960s and 1970s operated according their own rules in terms of design, engines and suspension, the vehicular equivalent of the Mayor of London getting stuck on a zipwire during the Olympics and yet still, somehow, coming out as a hero of the Games.
However, somewhere along the line, it turned into John Major, producing cars so dull and bland that you wouldn't notice them if they ran you over at a zebra crossing.
Thank God, then for the DS5 Hybrid4, the most characterful thing I've driven in years. The gear selector offers impenetrable, exotic options like 'ZEV'. The steering wheel is flattened out at the bottom, giving it the shape of a punctured Pirelli. It makes no noise at standstill, which, when combined with the keyless-go system, means you sometimes only realise you have left the engine 'running' when you're halfway down the high street and can't lock the damned thing.