My City: Buenos Aires
The Argentinian capital offers the lifestyle of a European city, but everyone can afford to splash out.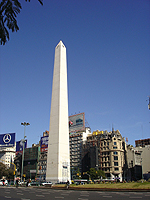 Most of the world's big cities fit neatly into two categories: those where you can afford everything but want nothing, and those where you want everything but can afford nothing. Then there is Buenos Aires. The city has always offered the lifestyle of a major European capital, from its broad avenues to its plentiful luxury goods. But since Argentina's cataclysmic 2001 currency devaluation, even those travellers accustomed to living on a limited budget in Paris or Rome can afford to splash out.
Despite the double-digit inflation during the nearly two years I have lived in Buenos Aires, its affordability never ceases to amaze me. A cab all the way across town - from, say, the magnificent Teatro Colon opera house on the city's central thoroughfare to the trendy Sucre restaurant in the Nunez neighbourhood - will set you back about Ps12 ($4).
A three-course dinner for two there with a bottle of one of Argentina's signature Malbec red wines would likely cost under $60. From there, you might head to Congo, a bar in the red-hot Palermo Viejo district with a lovely garden in the summer and nurse a few $2 mixed drinks.
If you've still got some pilas (literally meaning batteries, but 'energy' in Argentinian slang), the city's nightclubs await, with cover charges around $7. But you'll have to adapt to the locals' (portenos) circadian rhythms - clubs will be deserted before 2am and bustling at 5:30am.
Although prices are near international levels at most of the main malls, known as 'shoppings', there are plenty of steals to be found in the countless shops lining Avenida Santa Fe and Calle Florida, where a well-tailored suit can cost less than $200. And while there is no shortage of first-rate hotels - the recently opened Faena, in the Puerto Madero area, is of particular architectural interest - temporary apartment rentals are a better bet. At www.apartmentsba.com, which is geared towards foreigners, a modern one-bed flat in a central neighbourhood rents for under $50 a night.
Buenos Aires boasts one of Latin America's liveliest cultural scenes. If you can understand Spanish, its theatre offerings are particularly vibrant - the works on at the Teatro San Martin are usually a good bet - if not, the British Arts Centre often has an English-language play on.
Visual art is equally compelling. In addition to the permanent collection of Latin American art at MALBA, a number of high-profile shows have come through the city recently. If you're interested in seeing what contemporary Argentine artists are up to, a stroll past the Calle Arroyo galleries is always entertaining. And no visit to Buenos Aires would be complete without a tango show - Senor Tango, in Barracas, is one of the best-known.
Many other attractions are easily accessible from the city. A half-hour ride on the train hugging the riverbank is enjoyable in its own right and will leave you in Tigre, at the mouth of the delta that opens out into the Rio de la Plata. Take a water taxi and cruise up the natural canals, from which you can admire the architectural ingenuity of the many second homes here: they are often elevated on piles to protect from flooding.
If you really want to get the pulse of Buenos Aires, however, you're best off seeing Argentines in the places they themselves frequent. Cafes feature prominently in the city's vida cotidiana - everyday life - so stop by a local haunt (Doney, on Avenida Libertador, is mine) and order a cortado while you people-watch.
Perhaps the quintessential Buenos Aires experience, where you will definitely see the portenos at their most intense, is a football match. Passions run highest at La Bombonera stadium, the home of Boca Juniors in the working-class district of La Boca. There, the distinctions between tourists and locals melt away - so long as you're rooting for Boca.
Dan Rosenheck is the Argentina correspondent for the Economist