City eyes further cuts as Fed starts giving money away
Money is now virtually free to borrow in the US, after the Federal Reserve's latest aggressive cut...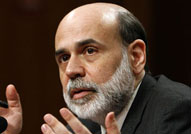 The US Federal Reserve stunned world markets yesterday by slashing interest rates down almost to zero and promising to do whatever it takes to kick-start the ailing US economy. The Fed said it would target an interest rate of somewhere between zero and 0.25% for the foreseeable future – the lowest rate ever seen in US history, effectively making money free to borrow – and would use 'all available tools to promote the resumption of sustainable growth'. It's a clear signal that the Fed is ready and willing to throw the kitchen sink at the economy, in a bid to stave off deflation – and it prompted a 5% bounce in the US stock markets last night.
The Fed's making this aggressive move because the US economic picture keeps getting worse. Yesterday it emerged that prices fell by 1.7% in November, which means that deflation is now a very real prospect. And this would be a disaster for the economy: punters shy away from spending in the expectation that prices will keep falling, while debt becomes more expensive (not exactly ideal given how much the West is now in hock). So the Fed is taking drastic measures: as well as chopping interest rates to a record low, it's also looking at various other ways of injecting cash into the economy – from buying up dodgy mortgage-backed securities to hoovering up Treasury bonds, which will be financed by expanding reserves. Economists call this 'quantitative easing', but it basically amounts to printing more money.
With Europe in an equally bad way, it's highly likely that our central banks will soon follow suit and bring rates even lower. Notes from December's MPC meeting show that the Bank of England considered an even bigger cut earlier this month (it brought rates down by 100bps to 2%) but decided against it for fear of hammering the pound. It was also worried that 'an unexpectedly large cut could undermine confidence in the economy more widely'. However, with more gloomy economic data out today – unemployment has risen to 1.86m or 6% of the workforce, the highest level for a decade – the reprieve will only be temporary (so it might still be worth buying your ski trip euros now, or even cancelling it altogether).