City feels the pinch as jobless total rises
City job cuts have contributed to the fastest rise in unemployment in 17 years, driving markets down again...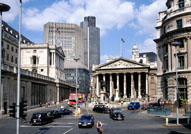 The number of City workers in the hunt for new roles increased by 42% last month, according to the latest figures from recruitment firm Morgan McKinley, as the travails of the big financial institutions forced thousands of people out of their jobs. With the number of new vacancies falling by 14%, the third consecutive monthly drop, it's clearly not a happy time to be a banker. And worst of all, all the signs suggest that the City's sins are now being visited on the rest of the UK: the official unemployment figure is expected to rise today, and even civil servants are facing redundancy…
According to Morgan McKinley, the number of City jobs available is now 42% lower than last year, while the high-profile collapse of Lehman Brothers and Bear Stearns and desperate cost-cutting of other big banks caused a sudden influx of bankers into the job market over the summer. The result, it says, is a 'substantial gulf between the availability of supply of financial services workers versus demand'. The markets may have finally stabilised, but it's going to be months or even years before the sector recovers any semblance of normality – so unless they've already been picked up by rivals (like the ex-Lehman staff taken on by Nomura), many of these bankers might want to start thinking about an alternative career plan (like this guy, perhaps).
So far the problems have largely been confined to the City, but it looks like this is about to change. Official figures released today show that unemployment shot up by 164,000 to 1.79m in the three months to August, the fastest quarterly rise since the early-1990s. This comes on the back of an increase of more than 80,000 between May and July, which took the official unemployment rate to 5.5%. It's now looking inevitable that unemployment will top the 2m mark, possibly even by Christmas, and could hit 3m in the following year. Grim news indeed - and it's sent the FTSE 100 back into negative territory again this morning (as are the French and German markets).