My city: Montreal
The city compensates for its lack of iconic landmarks with world-class restaurants and a unique mix of architecture.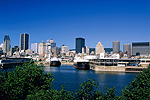 What do management guru Henry Mintzberg, pop star Celine Dion, new-age Cirque du Soleil and novelist Yann Martel (Life of Pi) have in common? All of them call Montreal home. Surprised? You're not alone. For most, Montreal is a bit of a mystery.
Even if you've never set foot in New York, Paris, Moscow or Sydney, you can easily conjure up an image of these cities. Mention Montreal to someone and they draw a visual blank. Most will resort to a vague reference: perhaps something about the 1976 Olympics, French-speaking people or a political separatist movement.
But what Montreal lacks in memorable landmarks, it makes up for in many charming surprises and subtle contradictions. For example, it has the highest number of churches in North America, but the lowest rate of churchgoing.
It's normal to experience -40C bone-chilling days in January and sweltering 40C heat in July. This is a city where you can grab a greasy, heart-clogging poutine (French fries smothered in cheese curd and gravy) at practically every corner diner, yet it is also where you can eat some of the finest food in the world. Gourmet magazine dedicated its March 2006 issue to Montreal.
Food is not the only angle worth exploring. Despite the scars caused by the brash development since the 1960s, the city's unique mix of architecture is worth investigating on foot. You may want to check out Montreal's Canadian Centre of Architecture - a small, specialised museum with great shows. If you prefer fresh air, start your walk from Parc Mont-Royal, the downtown hilltop green space designed in the late 1800s by New York's Central Park designer, Frederick Law Olmsted.
Head east down the hill to the Plateau and discover the colourful three-storey town houses that were once home to waves of immigrants seeking a fresh start. Now, the Plateau houses an urban crowd of who's who in culture and business circles.
Wander over to St-Denis Street, Montreal's 'Left Bank', where you can spend your money at local designer boutiques or eat lunch at Bistro L'Express, which provides a glimpse of the local intelligentsia. At night, go to St-Laurent Boulevard for bars and nightclubs, or eat at Montreal's most famous restaurant, Schwartz's delicatessen, which has been serving up its traditional smoked meat platters since 1928.
Head south from Mont-Royal and saunter along the side streets surrounding the Musee des Beaux Arts to find relics of the British dynasties that built Canada's railways. On Avenue des Pins, you can gawk at the Art Deco home of the late prime minister Pierre Trudeau, designed by Ernest Cormier.
Or walk through McGill University's campus, one of the priciest pieces of downtown university real estate in the world. Around here you'll also find most of the big hotels: I suggest staying either at the new Sofitel on Sherbrooke Street, or the nearby Le Germain boutique hotel. Ironically, the downtown food scene is thin, with the exception of the high-end Portuguese restaurant Ferreira Cafe.
On the south side of downtown, Old Montreal will show you why Montreal is considered the most European city in North America. The best time in Old Montreal is in the middle of winter - ask your hotel to arrange for one of the horse-drawn carriages to pick you up for an evening tour. For accommodation, consider the Hotel St-Paul, the Hotel Gault or the W. You won't run short of good places to eat either: there's Le Club Chasse et Peche or Chez L'Epicier, among many.
Montreal's modest lack of world-famous icons makes for a refreshing stay - you will be free to enjoy the city without any pressure to visit the often over-rated 'must-sees'.