City not buying Tesco's festive cheer
Tesco says shoppers are getting more confident - but its sales aren't growing as fast as the City expected.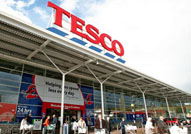 Tesco sounded pretty upbeat today, as it reported 'solid' third quarter results: group sales were up 9%, while CEO Sir Terry Leahy reckons that the supermarket giant is seeing 'improving customer confidence and encouraging trends in both the UK and our international businesses'. However, the UK like-for-like sales growth figure of 2.8% was lower than analysts expected – and with signs that customer confidence has taken another turn for the worse, Tesco is still going to have work very hard for our Christmas spending money...

There were plenty of positives to take from Tesco's results today, even in the UK business (not least that sales are still growing despite the slowdown in food price inflation). Leahy says its 'double Clubcard points' offer has proved very popular with customers, while its Finest range is apparently also selling well. Toys, electricals and entertainment items are also flying off the shelves in the run-up to Christmas (which might explain why Game Group has had such a rotten time lately – today it reported an 11% drop in sales for the last 18 weeks). And ominously for the high street incumbents, Tesco Bank continues to gain traction: it contributed 1.5% to the group sales growth figure, so it's obviously one to watch.

Nonetheless, judging by Tesco's share price slide this morning, the City seems to think this was a slightly disappointing set of results, by the retailer's own very high standards. After seemingly being caught flat-footed at the start of the recession, analysts were expecting to see more obvious signs of recovery. What's more, it's clear that the consumer confidence Leahy mentioned remains pretty fragile: the British Retail Consortium said today that high street sales rose a disappointing 1.8% in November, less than expected – and as Tesco FD Laurie McIlwee has been pointing out today, it could take a further hit if Alistair Darling announces any new taxes (like increasing VAT to 20%) in tomorrow's pre-Budget report.

One big advantage Tesco does have over its UK rivals is its substantial international business, which continues to do pretty well. Although these divisions have suffered along with the global economy, the countries that are now out of recession seem to be going great guns: Asia sales were up 19%, while there was even a 37% sales rise at its newly-revamped US chain Fresh 'n' Easy (which has so far been a real damp squib).

But the UK is still its most important market, and today's figures show just how tough Christmas is going to be on its home turf. With spending likely to be down, retailers will have to fight even harder for our custom – and if even the all-conquering Tesco is having a hard time, less powerful rivals could really be in bother.

In today's bulletin:
Why the taxpayer's backing Irish mortgages and oil tankers
City not buying Tesco's festive cheer
Bring back national (civic) service, says Demos
The Parent Project: How can I press the pause button on my career?
MT Video exclusive - CEOs are from Mars, CIOs are from Venus