City slickers plot Man United bid - as Real Madrid top rich list again
Does a gang of City high-fliers have the financial firepower to buy (and run) Manchester United?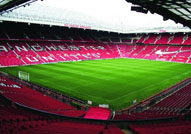 Given the number of meetings that take place in the City of London every day to discuss possible deals, there's been a quite inordinate amount of attention given this morning to the first pow-wow of the so-called Red Knights, a group of City types who are apparently keen to wrest control of football club Manchester United from the much-unloved Glazer family. Notwithstanding the fact that the Glazers don't want to sell (at least at a sensible price), their zeal is admirable. But on the day that Man U slipped to third in the list of football's richest clubs, topped again by Real Madrid, it's possible that even a group of minted City boys may not command sufficient funds to compete at the highest level these days…

The United-supporting City bigwigs at yesterday's meeting included Keith Harris, the Seymour Pierce boss who's been involved in various football deals, Jim O'Neill, the chief economist at Goldman Sachs, and Mark Rawlinson, a senior partner at law firm Freshfields. According to the Times, hedge fund boss Paul Marshall (of Marshall Wace) and Saatchi & Saatchi deputy chairman Richard Hytner are also on board. Outraged by the high levels of debt the club is now carrying, their plan is apparently to use their contacts to put together a consortium, with some kind of slice reserved for supporter groups.

But Manchester United fans might not want to start dancing in the streets of Surrey/ Dublin/ Kuala Lumpur just yet. For one thing, there's no guarantee that the Glazers will want to sell; their initial reaction was that United isn't for sale, and having just completed a £500m bond issue, the pressure is off financially (for the time being). Could they really be persuaded to give up the club, which they've been treating like their own personal cash cow? We're sceptical. (OK, the fans hate them, but they don't seem to be around enough to care.)

On the other hand, since they're clearly in this for money rather than love, the Glazers may have their (exorbitant) price. Which brings us onto the other big question: how will the Red Knights raise the £1bn+ sum required? The likes of O'Neal and Harris presumably aren't short of a few quid – particularly after bonus season – but they don't have the Croesus-like riches of a Roman Abramovich or a Sheikh Mansour. And Real Madrid – whose revenues topped €400m last year, according to Deloitte's latest Rich List – seem to be able to just borrow at will, safe in the knowledge that the Spanish government will bail them out if needs be (a bit like the City, in fact). So they'll need to find some deep-pocketed backers.

Still, the success of Barcelona's supporter-owned model does at least give some cause for optimism. And we're all for popular backlashes against owners who buy a business and leverage it up to the eyeballs. Hopefully next week we'll see a similar movement launched to buy Liverpool, fronted by Paul McCartney, Cilla Black, and the guy who used to play Jimmy Corkhill in Brookside. Power to the people!