City watchdog to banks: 'raise £27bn or face our wrath'
Banks must raise the cash to meet new capital requirements, says the Prudential Regulation Authority. 'Unfair', say banks.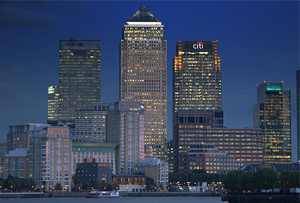 New city watchdog the Prudential Regulation Authority is only a couple of months old, but it's already wreaking havoc in the square mile. First, it uncovered a £1.5bn hole in the Co-op's balance sheet – now it's told four of the UK's biggest lenders that they need to raise another £27.1bn to meet new capital requirements. Makes MT's credit card bill look almost manageable…

According to the PRA, Royal Bank of Scotland, Lloyds, Barclays and Nationwide all need to raise cash to meet new Basel III guidelines – or, as it's known in the industry, Basell III Core Equity Tier 1 capital ratio (try saying that after a couple of drinks) – which requires banks to hold at least 7% of their risk-weighted assets.

As of the end of 2012, it says, RBS needed to raise a further £13.6bn, Lloyds needed to raise £8.6bn, Barclays needed £3bn, and Nationwide had a shortfall of £400m. Although since the beginning of the year the banks have taken measures to plug about £13.7bn of the gap, that isn't enough.

The banks have three real options to raise cash: sell off assets, do a rights issue, or make cutbacks. None are ideal: they would argue that they've already sold all the assets and made all the cutbacks they can (another 2,000 job losses were announced by RBS last week), while a rights issue devalues shares – not ideal for taxpayer-owned banks looking to privatise in the next few months.

They'll also point out that all this is a bit unfair: after all, the government has been whining at them for ages to support recovery by increasing the amount they're lending – the government's even made it cheaper for them with its Funding for Lending scheme – but now they're being told to increase their capital ratios, too. For Nationwide, which is a mutual, raising the extra money will be particularly difficult because it isn't listed.

At least RBS will have a little breathing room to raise the cash, after George Osborne confessed during his much-anticipated speech at Mansion House last night that the government has no concrete plans as to how it will sell off the bank. The chancellor said that it was strongly 'investigating' breaking the lender up into 'good' and 'bad' banks – but that any sell-off is a while away yet.

He also said that 'in hindsight' RBS should have been broken up when it was bought by the government in 2008 – although he added that 'I'm not criticizing my predecessor, who had to act quickly in a desperate situation'. Aaah.

Lloyds, on the other hand, is a different story. Osborne hinted that the privatisation of the government's 39% stake in the bank could begin within a few months, saying that it was in a 'good position' to be sold.
Although given the way the markets are tanking in response to the US' hints that it might be stopping quantitative easing, that sell-off might not be straightforward.
Image: Flickr/Paul Gravestock