Come clean on banker pay, says Walker
Does Sir David Walker think greater disclosure will stop banks paying out quite such huge sums?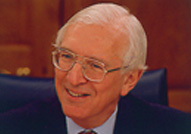 City grandee Sir David Walker has finally published his review on corporate governance, and as expected, there's plenty of bank-bashing in there. Walker thinks banks and big building societies should be forced to admit how many of their employees earn more than £1m per year, and he's also recommending that a larger proportion of bonuses should be deferred as share options. These are the measures that will grab the headlines and appeal to politicians – but perhaps the most interesting bits are his thoughts on how shareholders and non-execs can be given more power to stand up to all-powerful CEOs. RBS shareholders might argue that it's a bit late now, but still…

Under Walker's plan (which the Government says it will include in its forthcoming Financial Services Bill), banks will have to start disclosing the earnings of all their 'high-end' employees – split up into bands of £1m to £2.5m, £2.5m to £5m, and above £5m, with details of how the total sum is divided up between salary, bonus and long-term incentives. However, to his credit, he's refused to include a measure the politicians wanted – to name all of the people concerned (he argues, quite rightly in our view, that exposing individuals like that won't improve governance).

Presumably the idea of all this is that if banks have to start admitting how many high earners they have, it might be an incentive for them not to pay so much; after all, nobody will want to attract a crowd of placard-bearing protesters to their City HQ every time they issue a set of results. But it seems equally possible that the idea could have unintended consequences: since bankers generally like to earn more money than the person next to them, publishing pay details might actually foster more cut-throat competition internally and attract people to high-paying firms – both of which will actually push up banker pay. Not quite the desired effect.

Perhaps the more fruitful area of Walker's review is the section on improving board governance: he's calling for better qualified non-execs who spend more time on the job, more power for the risk committee to cancel deals (instead of being a rubber stamp), and a more active role for institutional shareholders. Whether any of this stuff would have prevented the financial crisis is debatable – shareholders and directors can get carried away with irrational exuberance, as well as CEOs. But at least it should bolster checks and balances in the future, which might at least give bosses greater pause for thought next time they sign a big deal...

In today's bulletin:
Come clean on banker pay, says Walker
Dubai sneezes - and Britain catches a cold
Editor's blog: There's a lot more grief in store for bankers
Big brands failing to cut carbon emissions
Talent level sky-high at Britain's Most Admired Companies launch