'Climate change is like a religion... and I'm a believer' - Sara Bell
HOW I BEAT THE ODDS: The CEO of Tempus Energy has worked insane hours, changed the course of her business and learned how to take risks.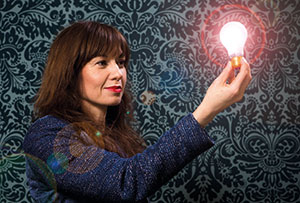 I've always been an outsider. My family moved to Sweden when I was a baby. By the time we moved back to Reading, I was 11 - and Swedish. My school bus journeys were punctuated by cries of 'go home bloody foreigner'. I soon learned I would never fit in, but I could at least appear to.
After seven years working as a financial services risk professional in Australia, I started my first business, a magazine for intelligent women. It only lasted six months. It failed because once my bank account got below £500, the risk got to me. Instead of building the business, I spent my time worrying about how to pay for it.
Though the magazine was never insolvent, I was heavily indebted, so I returned to financial services, this time in Hong Kong. I'd soon paid back every creditor, but was itching to run my own business again.