Cloud computing still weighed down by concrete set-backs
Companies are increasingly moving their applications to the private cloud. But co-habiting the public cloud remains unappealing...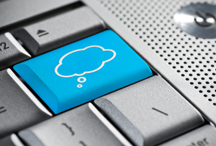 Business seems to be switching on to the benefits of virtual computing: 37% of companies say they will migrate 61% or more of their applications to a private cloud environment in the future. But while cloud technology is constantly touted as the next big thing in IT, only 6% of companies are planning on moving to the full public cloud. Which suggests that concerns over security become even more real once applications move beyond a business's own firewall.

Moves towards the private cloud at least are happening apace: according to a survey of IT managers by IT support company Precise, large enterprises are migrating both front-office and back-office applications to the private cloud. For anyone in need of a quick jargon refresher, the full public cloud involves handing your data and applications over to an external host, which stores it on a remote server along with that of a number of clients. Private cloud still involves handing everything over to an external provider, but each company's data is kept on its own individual bit of kit.
In 2011, 39% of organizations moved the simple stuff like email and collaboration systems to the virtual infrastructure, 33% moved their IT management, 20% sales & marketing, 21% finance/HR/ERP and 13% security. And that trend is set to continue: a third of respondents report that they will move finance, ERP and HR applications to the private cloud in 2012, 23% will move e-mail and collaboration software, and 21% IT management applications.

Yet the fact that the private cloud is proving so popular shows just how unwilling firms are to put their crown jewels in a public cloud environment. Indeed, amid all the bluster around how amazing the cloud is, there remain several key issues around the public cloud that put a huge question mark over the wisdom of heading there. It's no surprise that security features highly there: in an age where a company's data is its most treasured commodity, anything that risks losing it has to be treated very carefully.

The only question is whether the issues around the private cloud are really any different. Private hosting still involves placing huge trust in an external provider and their security, back-up systems and data retrieval means. How do you know that your data isn't being mingled with that of other clients? (Surely with all these bits of cloud out there rubbing together it's only a matter of time before lightning strikes?)
And those aren't the only issues: 37% of IT managers were concerned that it will take longer to pinpoint the causes of problems if anything goes wrong once their applications are in the cloud. And given that the process involves cross-platform migration, you can bet problems aren't exactly going to be scarce. If your computer starts playing up when it's in the cloud, how do you know which bit to thump? Indeed, can you even turn the cloud off and back on again?