Cloud gazing: Five tech trends for 2013
Tech heads! Desperate to know the five big themes that will dominate the technology industry next year? Vineet Jain, CEO of cloud storage firm Egnyte, has spotted these trends in his crystal ball.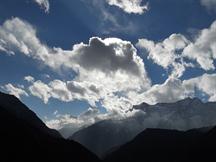 Cloud gazing, or aeromancy as the hippies call it, now applies to technology - to innovations in the cloud. Here are the areas set to explode in 2013.

2013 is the year of the Six Million Dollar Man
I'm not literally suggesting that we're all going to become bionic weapons in human form. Biut we do have the technology to achieve things that would have been impossible even five years ago. Next year, we will see the rise of a new generation of IT people. A class of IT pros who are as likely to have MBAs and product management pedigrees as they are to be gamers and nerds.
Save the world, one cloud solution at a time