Co-Op Bank CEO quits after Moody's junk downgrade
Yet more bad news for the banking arm of the Co-Op group - CEO Barry Tootell has quit only hours after the bank's was downgraded to Junk status by ratings agency Moody's.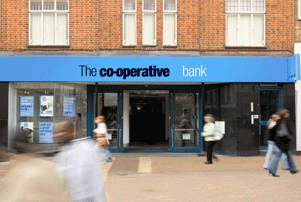 Barry Tootell will be replaced in the short term by fellow director Rod Bulmer. This latest double whammy comes only a week or so after the bank's ill-fated attempt to buy 631 branches from Lloyds finally hit the buffers, and leaves the Co-Op Bank looking, frankly, a bit of a mess.
Moody's now rates the Co-Op Bank at E+ 'not prime' (a euphemism for junk), down from C-. The agency also warns that external support may be needed to prop up the balance sheet against the risk of forthcoming losses. And new financial regulator the PRA may be about to force it to sell off its insurance and life insurance businesses to raise capital.
On the other hand, since their inglorious roles in the dark days of the crash, the judgments of the ratings agencies carry substantially less weight than they did. And Tootell was expected to stand down shortly anyway, on account of the fact that the job he was hired to do - integrating all those ex-Lloyds branches - is no longer there. So all that's really happened is that he has brought his plans forward rather abruptly.