Co-op Bank co-operates with bondholders
After months of hand-wringing, the Co-operative Bank has published details of its rescue plan. It doesn't really chime with the management's original 'bail-in' idea.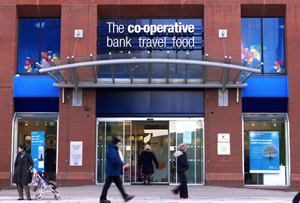 A tough start to the week for Co-operative Bank chief executive Euan Sutherland: the lender has published details of new plans to inject a much-needed £1.5bn into its balance sheet, which effectively hands control to a group of American hedge funds. Not exactly the knight in shining armour it had originally envisaged galloping to its rescue…

Cast your mind back to mid-June: the sun was shining, the weather was sweet and, after a moment of panic when an investigation by the Prudential Regulation Authority revealed that the bank had £1.5bn less on its balance sheet than it realised thanks to its 2009 merger with the Britannia Building Society, things were beginning to look up after it came up with the idea of a 'bail-in'.

That involved junior bondholders swapping their debt for equity in the bank, thereby taking a small haircut but nonetheless avoiding the alternative, which was losing everything as the bank collapsed or the government bailed it out instead.

Bondholders, though, weren't having any of it, and last month proposed an alternative, which meant although bondholders would still have to swap their shares for equity, it would be more than originally planned - leaving the Co-op with a mere 30% share in the bank, a 15% reduction in its current stake.

And lo, this morning it came to pass: the lender has confirmed that a group of six US hedge funds, led by Aurelius and Silverpoint Capital, will end up with a 70% stake. It'll then list on the stock market next year. It also said it'll cut 15% of branches, slashing 10,000 jobs.

The good news for the Co-op is that the amount of cash it'll have to put in as part of the deal is vastly reduced: from the original £500m it was expecting to have to stump up, it's now more like £400m.

The problem with all this, of course, is that most of the Co-op Bank's customers chose it for the very reason that it wasn't run by a group of US hedge funds. Its ethical credentials are seen as a major selling point for the bank - and the fact that it's about to be taken over by an industry with a less-than-virtuous reputation is worrying to many of its customers.

Sutherland, though, has a cunning plan: in a newspaper ad this morning, the bank proclaimed that it will preserve its ethical credentials by writing a clause into its constitution which means that the hedge funds can't turn it into just another bank.

The new business plan is likely to need 80% shareholder approval before it can be put into action, but a vote will take place before the end of the year - so we (and, presumably, Sutherland) await the outcome with bated breath.