Co-op Bank debacle: Now the FSA and KPMG are under fire
The regulator should have never allowed Reverend Paul Flowers to chair the bank in the first place, according to the Treasury select committee.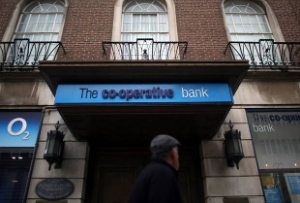 The Treasury select committee's long-awaited report into the epic fail that was the Co-operative Bank's aborted plan to buy 632 Lloyds branches last year is finally out, and its scorn isn't just reserved for the uber-incompetent management, including disgraced former chairman Reverend Paul Flowers.

The MPs were also thoroughly unimpressed that the Financial Services Authority waved Flowers' appointment through, and that it and auditor KPMG didn't spot the bank's £1.5bn capital shortfall sooner.

That black hole was largely caused by its acquisition of Britannia Building Society in 2009, which the committee also said had not been properly put under the microscope by the Co-op or KPMG.

The MPs did, however, clear chancellor George Osborne of pushing Lloyds to accept the Co-op's bid (although he did favour it). That particular allegation was made by former Lloyds of London chair Lord Levene, whose NBNK Investments also wanted to buy up the branches (now spun off and floated as TSB). Sore, much?

The committee's ire was mainly reserved for the bank itself, and Flowers in particular. The board was 'entirely inadequate for a bank of any size' and it was 'shocking that it was in place in an institution that came so close to becoming a major new challenger bank'.

'The deficient composition of Co-op Bank's governance was embodied in Paul Flowers, who lacked any of the requisite financial services experience to act as Chairman of a bank,' the report said.

'He should not have put himself forward for the role. Co-op should not have selected him. The regulator should not have permitted his appointment.'

Unsurprisingly, the Prudential Regulation Authority (one of the FSA's successors, along with the Financial Conduct Authority) said it wouldn't allow it now, under new rules for giving the green light to bank bosses.

The Co-op Bank also distanced itself from its former self, stating, 'Over the past 12 months we have made significant progress in reforming the way the Bank is governed. The Bank's board looks very different today.'

What next, then, in this sorry saga? The PRA and FCA are investigating 'former senior management', which could mean people fined or banned from working in financial services again. Meanwhile, UK accounting watchdog the Financial Reporting Council is looking into KMPG's role in the debacle. There's no moving on just yet.