Co-op bank fails stress tests, RBS and Lloyds scrape through
Mark Carney said the tests showed Britain's finance sector is significantly more resilient than before.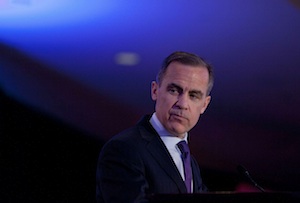 Three banks would be at serious risk in the event of another financial downturn, according to the results of the Bank of England's stress tests, which were published today. The Co-operative Bank failed the conditions set out by the tests, while Lloyds and RBS just scraped through.

To test the sector's ability to weather the storm, the central bank created a hypothetical scenario where house prices plunged 35%, unemployment rocketed to 12% and interest rates jumped, and assessed whether the banks' balance sheets as of the end of 2013 would be able to cope.

To pass the test the banks would need to be able to maintain a minimum capital ratio (a comparison between a bank's core equity capital and reserves and credit-rated assets) of 4.5%. As expected, the Co-op didn't even come close, with -2.6%, and was ordered to submit a new capital plan. The bank has had a particularly tumultuous few years and reported losses of £2.3bn in 2013.

RBS and Lloyds, which are particularly exposed to the housing market, scraped through with 4.6% and 5% respectively, though the report noted they had made progress this year and could survive through 'strategic management action'. HSBC, Barclays, Santander, Nationwide and Standard Chartered all passed with better ratios.

'This was a demanding test. The results show that the core of the banking system is significantly more resilient, that it has the strength to continue to serve the real economy even in a severe stress, and that the growing confidence in the system is merited,' Bank of England governor Mark Carney said.

The Co-op will need to shed £5.5bn of risk-weighted assets by 2018 in order to restore its financial health. A key element of this will be disposing of its home mortgage portfolio, known as Optimum. Even if it does manage to do so this will be an expensive process and it doesn't expect to make a profit until 2017 at the earliest. Its turnaround would be boosted if it could draw more customers over from the bigger banks, but bad press like this isn't exactly going to help.