Co-op ex-boss Euan Sutherland is taking over from SuperGroup founder Julian Dunkerton
After bailing out of the Co-operative Group, Euan Sutherland will be hoping SuperGroup is rather more super.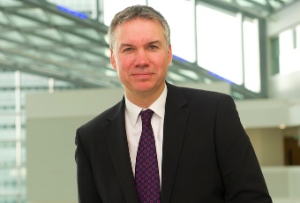 As a resigning CEO, it's always nice to know there will be another company not-too-far around the corner waiting to welcome you with open arms. And, lo, seven months after quitting as head of the 'ungovernable' Co-operative Group after only 10 months in charge, Euan Sutherland has found himself a new chair at the top table - as chief exec of SuperGroup.

Julian Dunkerton, who founded the FTSE 250 retailer in a small clothing shop in the spa town of Cheltenham in 1985, is stepping down into 'the newly-created role of Founder and Product and Brand Director' (not sure why the former is necessary...).

'With the number of opportunities SuperGroup has available and the increasing complexity of the business, now is the right time to bring in a CEO of Euan's calibre,' Dunkerton said in a statement released to the stock market.

Aside from his disastrous reign at the helm of the Co-op, Sutherland's CV isn't half bad. He was UK chief exec and then group chief operating officer at DIY retail group Kingfisher, having previously headed up Superdrug and The Perfume Shop owner AS Watson UK, and has also been a non-exec SuperGroup director for two years.

Investors weren't so sure, though, sending shares down almost 3% to 999.5p in mid-morning trading. Even if they have forgiven Sutherland for jumping ship from the Co-op (or would have done the same themselves), they may be worried Dunkerton won't be able to let go of his baby from his new role.

SuperGroup, which has a third of its 150 stores abroad, has had a pretty rocky ride as a public company since floating at 500p a share back in 2010. Shares tanked after it issued three profit warnings in six months in 2011-12. They then rose as high as 1,715p in March this year, before sliding after disappointing results. A little turbulence probably won't concern management all that much.
SuperGroup's share price since 2010 is somewhat mountain range-esque Source: Yahoo Finance