Co-op still on naughty step as Flowers is arrested
Having been humiliated by a tabloid, ex Co-op Bank boss Paul Flowers has now been arrested. Bad timing for the bank's bondholder vote.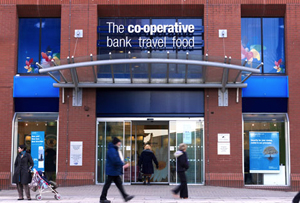 It is, as one writer pointed out this morning, 'like a tragicomic sequel to Withnail & I starring Uncle Monty': having been embarrassed in front of a committee of MPs, busted by a tabloid buying Class A drugs and then had dozens of historic 'irregular' expenses claims dredged up, it was only a matter of time before the police got involved with Paul Flowers.

And lo, West Yorkshire Police confirmed this morning that officers had 'arrested a 63-year-old man in the Merseyside area in connection with an ongoing drugs supply investigation'. The arrest came shortly after a raid of his home in Bradford, during which police removed pornographic DVDs, a computer and a memory stick.

To add insult to injury, Flowers has been asked by the Co-op to return £31,000 he was paid when he resigned as chairman earlier this year.

There are dozens of questions left unanswered. Why, for example, didn't the Charity Commission investigate further into the £65,000 of Flowers' expense claims that the Lifeline Project, a charity he was involved with, disputed? Why didn't anyone realise he had resigned from Bradford council because inappropriate material had been found on his computer? And why on earth did the Co-op Bank choose Flowers as its chairman in the first place, given the fact that he had no qualifications in banking, no experience in banking, and the moustache of a cartoon villain? Surely that should have given them a clue…

As humiliating as it is for Flowers, it's worse for the Co-op Bank. Rewind three weeks and the bank's major worry was about how customers were going to react to its being taken over by a group of hedge funds. Now, it risks losing its 'ethical' status altogether (as one Times writer put it, 'Flowers puts the "m" in "ethical banking"').

It's hard not to laugh: when they were putting together their rescue deal, bosses at the Co-op 'extensively' lectured the hedge funds who will, in all likelihoods, end up with a 70% stake in the bank. Apparently, they wanted to make clear that if the bank was going to keep using the Co-operative name they'd have to jump through a number of ethical hoops. Presumably, the hedgies are having a good laugh now…

In a way, the Flowers furore is a sideshow to the real story. A week today, bondholders will begin voting on a rescue deal to plug its £1.5bn capital hole, handing effective control to hedge funds. The results of the deal will be announced on December 12. Chances are the bank's lenders will vote in its favour – although if MT was one of them, it would want to get out of there. The Co-op bank is rapidly becoming a toxic asset.