Cobra Beer's Lord Bilimoria is taking on Instagram and Snapchat
The entrepreneur has launched an 'instant' photo sharing app called PictoSo.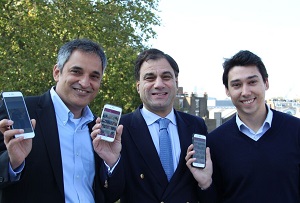 Photo sharing is a crowded market. Between the hipsters adding a greyscale filter to their Instagram shots and youths sexting each other on Snapchat (and not to mention Facebook and Twitter), there's not a great deal of space for a new entrant to come in and shake things up.
But that's not stopped Cobra Beer co-founder Lord Bilimoria having a go. The crossbench peer has just launched PictoSo, an app that lets people 'instantly' share photographs with their contacts. Users take pictures, edit them and save them to albums which are then available to be viewed by friends and family.
'We are witnessing the convergence of a number of trends: smartphone usage rising significantly, broadband access and speed expanding rapidly; and the cost of data storage and digital tools falling,' said Bilimoria, who is joined in the venture by his cousin Rashid Bilimoria and software developer Philipp Reisinger. 'It's clear that now is the time to launch an app that makes it easier for users to share their photos instantly.'