Coca-Cola crushed: The real thing ain't what it used to be
It used to be the global symbol of the American Dream, but now Coke's sales are plummeting, thanks to links to obesity and young consumers who prefer trendier, healthier options. Can it recover?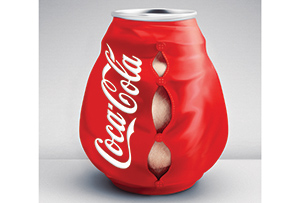 C'mon, then. Let's all sing along like it was 1971. 'I'd like to teach the world to sing in perfect harmony/I'd like to buy the world a Coke and keep it company. Chorus: It's the re-al thing, Coke is – what the world wants today, Coca-Cola.' Doesn't sound quite as convincing in 2015 as it did back then in the groovy, carefree early 1970s, does it? In those days, Coke was the taste that refreshes. It 'added life'. Then you had a Coke with a smile not a grimace. That was then but this is now.
Now when Coke tries to market itself, less beautiful things happen. In 2015 it has perforce to try social media, which isn't so controllable. Recently, during the US Superbowl it devised a campaign called 'Make It Happy' in which it invited people to reply to negative tweets with the hashtag #makeithappy. Then an algorithm converted the tweets into pictures of happy, positive things like a cute mouse or a chicken drumstick wearing a cowboy hat.