Coffee shops buzzing despite recession
Good news brewing on the high street: coffee chains have grown 47% in a year.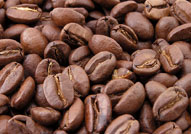 That's according to research by the Local Data Company, which has counted the caffeine peddlers of 705 town centres. It shows that while other retailers may be struggling, people are at least out there, and that they're still happy to splash a few quid on the things that matter - particularly those that involve bombarding their ailing synapses with stimulants. Estimates suggest the coffee market will be worth £12bn by 2012.
And there's an aroma of good news for the smaller retailer. The number of independent coffee shops in the researched centres has grown by 12.5%, taking their total to 9,441 - compared to just over 2,000 chain outlets. That's an interesting figure: it seems so hard to get a coffee these days beyond the chain stores, and scores of trendy punters wagging chins over a frappy whatsit.