COLUMN: How to become a smart investor
Want to put your money to work? James Caan's right hand man Faisal Butt gives his tips on becoming an investor.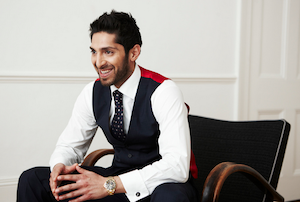 I often come across people that have recently accumulated wealth from the business world and are now looking for somewhere to reinvest it. Why not recycle that wealth within a sector that you understand? A diversified portfolio co-investing with the right venture capital (VC) house could do just that.

Angel and venture capital returns can be 'off the chart'. Think of Sean Parker's early investment in Facebook. It is, however, a high risk/high reward strategy – and some VC houses have performed fantastically while others have languished in the abyss. Nowadays, with the advent of crowd funding, the stakes are higher as everyone wants to be an angel investor.

What most people don't realise, however, is that start-up investing is a 'treacherous domain' where the right experience, connections, and knowledge of deal structures could 'make or break' an investment strategy. You can either go it alone and learn the hard way or partner with a VC and ride on the back of their knowhow. If you decide to take this route, pick your VC carefully. You need to look at their historical returns and study how they de-risk investments. There are many ways of de-risking, but ultimately it boils down to having the right management team and board to deliver the plan.

Although some angels prefer to invest on their own, I think most would go with a VC house if the option was readily available. But VCs typically raise their capital from limited partners (LPs) who are typically big ticket investors such as endowments and pension funds, and this means minimum thresholds, which rules out a big segment in the mass affluent market and with it investors who can bring real sector experience.
I think differently though, and often invite individuals with specific expertise to co-invest. In this structure, investors have direct involvement in the business and the investment threshold is much lower. It's a win-win for both parties. Investors have the opportunity to ride on top of the infrastructure that a VC brings and the VC can enter new sectors by leveraging a sector specialist.

In contrast to the 'lone ranger' angel route, investors benefit from a pre-vetted, pre-originated deal that's been through layers of screening by a team of investment analysts, professional investors, and accountants. And you have the advantage of a strong board that's already been put in place as well as the collective networks of the VC house, yourself and the management team. What's more, as a sector specialist, you'll probably be invited to sit on the board in a non-executive director or consultant – and that means fees. So there's also an income opportunity.

Going through a VC house will enable you to put your 'nest eggs' in several baskets by freeing more of your time and capital. You could be sitting as a non-executive on several boards with a stake in each business; all within a sector you understand where you can add value to your investment. And you can co-invest only in companies that you like rather than investing blind in a fund. I'm not adverse to the 'lone ranger' angel route but you have to be prepared to offer a lot more of your time and money, which can be a turnoff for many investors.

As a sector agnostic investor with a leaning toward real estate related ventures, I'm open to different types of businesses. I'll look at anything from serviced apartments right through to investment management businesses and property tech ventures. I can't expect to be an expert in every area – so if there's something I find interesting but don't know much about – I'll look for a sector specialist co-investor. In fact, I've recently been looking at a business in the online estate agency space – and because it wasn't something that I was familiar with – I went on the hunt for a technology professional with a successful exit and a 'pot of gold' to invest. We're currently very close to doing that deal – and the person I was looking for will be a co-investor and board member. Would I have done that deal without them? I may have, but it's given me a lot more comfort.
There are two key profiles that I look for in a co-investor. The first is someone who has built a business, scaled it up and exited it. They've come into some money and now they're looking to put it to work. They bring a lot of value to the table because they have had the journey that the management team is about to embark upon and can share their stories. The second profile is someone that's had a career in a corporate and are quite senior. I like to refer to them as 'CXO level'. Either a CEO, COO, or CTO within the sector I'm looking at who can bring industry contacts, management capability, best practices, and process knowhow. They're often the glue between the VC house and the management team because they understand the management team's language and have been in a corporate long enough to understand the VC house's needs.

As an angel investor investing alongside a VC house you can affect the success of your investment without having to go through the 'daily grind' all over again. You can leave a lot of the work to the VC and be what you really want to be: someone to advise and mentor without getting your hands dirty. It's an opportunity to scale up your investing strategy so you can 'spread your entrepreneurial seeds and multiply your wealth'.