Comet burns out: Sold for just £2
Parent company Kesa dumps the electrical retailer as Comet's sales plummet faster than a speeding asteroid. The chain has been snapped up by investment firm OpCapita for just £2.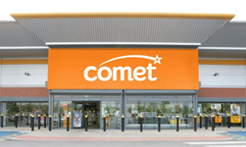 But that's not the end of the story. As part of the deal, Kesa has agreed to pump a further £50m into the business and take on the firm's pension scheme. OpCapita is also digging deep, promising £30m for the turnaround. The group of interests represented by the private equity firm has been nicknamed 'Hailey'. Fnar.

The buyers have promised to keep Comet as a going concern for a minimum of 18 months. Kesa will shut down 17 under-performing stores, close one warehouse and call time on 12 of its 14 service centres. Swingeing cuts indeed. But the new owners have at least promised to sheath their shears for now so no further jobs are at risk.

A deal has been on the cards since June. Comet's like-for-like sales were down almost 18.6% for the first six months of the financial year and sales of 'big-ticket' items like widescreen TVs and washing machines have stalled as people mend and make do rather than splashing out on jazzy new models.

David Newlands, chairman of Kesa Electricals, released a cagey statement today, saying that Comet was having a 'negative impact' on the financial position of the whole group and that attempting to rescue the business in-house was too risky, citing 'substantial costs if the turnaround plan proved to be unsuccessful'. They must be extremely substantial if Kesa is willing to write off £50m to offload the business: Kesa will only get a return on its 'investment' if Comet is sold on for more than £70m.
Best Comet-related tweets today
@Peston: Is there anything you can buy in Comet for £2 (obviously you can buy whole of Comet for £2)?

@rschifreen: Comet chain sold for £2. Plus £40m for the extended warranty, presumably.

@stefanfranczuk: So the UK electrical retailer 'Comet' is being sold to a company called 'Hailey' - is someone having a laugh???

@willguyatt: With Comet sold for £2 this morning, what retailer could I buy for the 50p in my pocket?

Did you know?
Comet was founded in 1933 in Hull as Comet Battery Stores to, well, sell batteries. It was owned by Kingfisher before it demerged in 2003.