Comet crashes to earth
Comet confirms it will go into administration next week, putting 6,000 jobs on the line.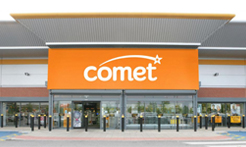 When private equity firm OpCapita bought Comet last year for just £2, analysts expected that it would be able to turn the retailer around. But the downturn in consumer spending since 2008 has left Comet struggling to improve weak sales, and the chain confirmed today that it will go into administration next week. According to Retail Week, OpCapita has lined up Deloitte for the job.
The situation is disappointing for OpCapita since the chain has traded reasonably well since the purchase. But the situation has worsened in recent weeks after the firm lost its credit insurance, the knock-on effect of which is that it has been unable to buy in enough stock to meet demand over the Christmas trading period. It is thought that the situation arose because of unsolicited acquisition interest a few weeks back, and the possibility of a change of hands put the wind up the credit insurers.
Earlier this year, there was a period of positivity about the chain, as the former Dixons boss John Clare was installed as a new chairman. Back in February, when it was first announced that he would take up the position, Clare said: 'I can see a real opportunity. This is not about doing a pre-pack or closing stores. This is about focusing on margin improvement, cost structure and cash management.' With Clare's 15-years' experience at the helm of Dixons and the booming profits he built there, many thought he would be able to woo the suppliers and get some good relationships going. But, alas, it looks as though the credit insurers scuppered that opportunity. Ironically, indications that Clare had managed to stave off a sharp drop in sales at Comet is probably what prompted interest from potential buyers. Which then set off the credit insurance issue. Eeurrgh.