Comet to cut 735 more jobs, Dixons to sweep up employees
It looks like Comet really is crashing to earth, after administrators announced another slew of redundancies twice as large as the first one.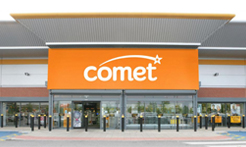 The severity of Comet's insolvency is growing by the day it would seem, after administrators from Deloitte announced a further 735 job cuts on top of the 330 it has already announced. The cuts will come from head office, the central business functions, and from its home delivery network. The cuts take the firm's total headcount down from 6,611 to 4,446 in the space of just a couple of weeks.
The wider wind-down process is already in train in a lot of places, with closing down sales having kicked off in at least 27 of its 236 stores, a further 14 slated for closure, and a website dominated by a banner proclaiming massive clearance sales. The administrators said that the firm's delivery network will complete outstanding deliveries and the repairs operation will remain active, so that existing covenants with customers can be honoured.
Joint administrator, Chris Farrington, said: 'Discussions continue to take place with parties who have expressed interest in parts of the business. However it is unfortunately necessary to begin a store closure programme and to scale back the company's support functions.' He added: 'While we continue to do all we can to preserve jobs, we are working hard to put in place comprehensive support to help those employees who are made redundant during the administration.' A dark time considering this is all in the run up to Christmas.