Comet shows spark of life as 'online-only' model
The failed electrical retailer could be reborn as an online-only operation, after an established e-commerce firm puts a bid on the table.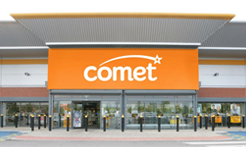 The owner of e-commerce brand Appliance Online, DRL, confirmed on Friday that it has offered a 'seven figure' sum for Comet's online retail operation, providing hope to at least some of the collapsed retailer's 6,000-plus employees. The offer comes just weeks after the collapse of the firm became public knowledge, although there has been no interest from any party in acquiring the whole group.
The founder of Appliances Online, John Roberts, said that Comet had foundered because of 'a poor attitude to is customers, deficient delivery service and inadequate after-sales offers.' So what actually happened to make Comet collapse? Essentially, the firm lost its credit insurance, the knock-on effect of which was that it couldn't buy enough stock to meet demand over the critical Christmas trading period. It is thought that the situation occurred because Comet was faced with some unsolicited acquisition interest, and the possibility of a change of hands caused concern amongst credit insurers.
It is also rumoured that several retailers have expressed an interest in acquiring some individual stores – they have a choice from 41 outlets that Deloitte have earmarked for closure by the end of November. More are expected to join the list as the wind-down progresses, but 27 premises have already been closed. The inevitable lay-offs that will accompany the closures are a boon to rival retailer Dixons, which has already expressed an interest in taking on a swathe of former Comet employees.