Comet's investors siphoned off £13m in fees ahead of crash
The owners of Comet charged the chain £12.8 in a period of less than a year, even though it was racking up the losses that eventually toppled it.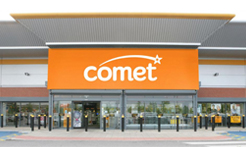 Today is the last day of the electrical chain's 79-year history, as the last stores will be shut for good by close of play.
But at the same time, the Deloitte administrator's report has revealed the Hailey Acquisitions Limited (the investment vehicle that owners OpCapita used to acquire Comet), took £11.5m in interest and other payments from Comet, whilst OpCapita and another Hailey business took £1.3m in what they called 'quarterly monitoring fees'.
The retailer fell into administration in November, and in the ensuing weeks it became clear that there would not be a replacement buyer – almost all 7,000 employees at Comet have lost their jobs.
The old private equity tricks of fees and charging are particularly bitter tasting for the UK's HMRC as well as Google and G4S, which are collectively owed something in the region of £50m by the failed firm.