Is commercial space flight viable?
Jeff Bezos' Blue Origin launches its New Shepard rocket 94km above the Earth, but the winner of the new space race will be the one who masters landing.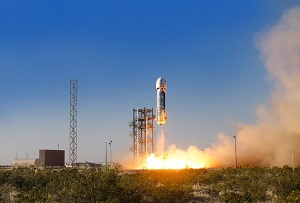 Like many children of the 1960s, Amazon founder Jeff Bezos wanted to be an astronaut when he grew up. Like almost all of those children, he ended up doing something entirely different. The fortune Bezos made at Amazon, however, has given him the means to revive that childhood dream, and he's been labouring on it for 15 years.
Bezos founded Blue Origin in 2000 with the goal of realising commercially viable space travel. After a couple of low altitude test flights and an aborted 2011 launch that reached only 14km (a 747 reaches 10km), the company sent its New Shepard rocket 93.6km above the Earth on Wednesday.
Given that space is generally accepted to start at 100km, that's pretty impressive. But the real goal of course is not to build a vehicle that can reach space – that happens all the time – but to build one that comes back again to be reused, rocket and all.