Commutes getting shorter
A new survey reveals that commuters are getting to work faster. That's good news, right..?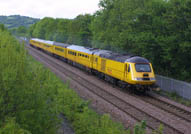 The number of people commuting for at least one hour a day fell for the first time in a decade between 2006 and 2007, according to new research commissioned by the TUC (to coincide with Workwise UK's Commute Smart week). The 'heartening' 1% drop means that 100,000 fewer UK workers are wasting this sizeable chunk of their day sitting in traffic jams or standing on a sweaty train on their way to and from the office. For the previous ten years, commuting times have been rising – but as companies embrace flexible working, it seems the tide may finally be turning.
Perhaps surprisingly, the biggest percentage drop in hour-long commutes came in London, where the proportion of afflicted workers fell from 47% to 40% - meaning that about 101,000 people saw their commuting times come down during the year. But it was the same story in every UK region (both the North East and Northern Ireland enjoyed 3.5% drops, for example) – and given that the research pre-dates the recent financial crisis, this does suggest that moves towards 'smarter' flexible working policies seem to be paying off.
Of course, this still means that over 5m people – 20% of the UK workforce – are still spending over an hour a day commuting. In London, the situation is even worse: two in five workers spend at least an hour (to be honest, we're surprised it's not more). Indeed, across the country as a whole, the average commute time was apparently 54 minutes - and that's not to mention the fact that UK workers already have some of the longest hours in Europe in the first place. So we're not exactly getting an easy ride (so to speak).