Companies profit from post-Lehman M&A deals?
Companies brave enough to do deals since Lehman's collapse are so far (slightly) better off as a result...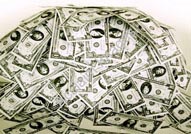 That's the conclusion of a study by consultancy Towers Perrin, which has been crunching the numbers on the big M&A deals completed since Lehman went bankrupt in September last year. It found that companies who had taken the plunge and agreed these deals have - so far - out-performed the market average by more than 6%. And the more deals firms had done, the bigger their out-performance. Then again, if a company's in good enough shape to do such big deals in the current climate, arguably we shouldn't be surprised that it's doing better than its rivals…

Towers Perrin (along with Cass Business School) has picked out 204 mergers or acquisitions with a value of more than $100m completed between last September and this May, and looked at how the acquirer's share price had been affected as a result. Sure enough, they out-performed the market average by 6.3%. Now admittedly, that only amounted to a negative shareholder return of 25.5%, as opposed to the overall average of 31.8% - so they've still lost money for investors. But it's all relative, right? And presumably the plan is that they'll be sitting pretty when the markets pick up.

You might think this is fairly predictable. After all, with asking prices plummeting, it seems logical that those companies with the prudence or good fortune to have plenty of cash in the bank would be able to snare themselves a bargain – and with the competitive field shrinking, the combined group would be well placed to hoover up market share.

However, the fall in valuations cuts both ways – it's also made it quite hard for companies to determine what a target is worth. There's also a chance that acquirers might be so excited by the prospect of doing a deal that they rush into it without doing their homework properly, as Lloyds shareholders will probably attest in the aftermath of the (so far) ill-fated HBOS tie-up. And even if the deal is a brilliant one, executing it brilliantly is another thing entirely. It's worth noting that the 15 companies who completed more than one deal during the period outperformed the average by 8.1%, so execution practice clearly helps.

But equally, well-managed companies are likely to be better at this, just like they're better at doing due diligence and just like they're better at preparing for a rainy day. So perhaps all these stats tell us is that well-managed companies perform better than others – which presumably won't come as a surprise to anyone...

In today's bulletin:
We're not out of the woods yet, says BCC
JJB supports chairman in bid to diffuse Ashley row
Editor's blog: Ecclestone and getting things done
Companies profit from post-Lehman M&A deals?
Graduates feel the squeeze as job market tightens