Company Vitae: Rolls-Royce
This most British of brands started out in luxury cars only to become a world leader in aero engines.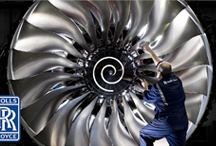 Formative years Rolls-Royce was founded in 1906 by the Hon Charles Rolls, purveyor of horseless carriages to the gentry, and Henry Royce, a talented young engineer. The combination of Rolls' dosh and connections with Royce's technical know-how proved a winner and Rolls-Royce cars rapidly gained a name for being among the best in the world.
But it was in the air rather than on the ground that Rolls-Royce's future would be based. The firm made its first aero engine in 1914, but it was the Merlin of WWII that cemented its pre-eminence in the field, powering planes such as the Spitfire, Lancaster and Mustang.
In the late 1960s, however, the wings started to fall off. RR spent heavily on the development of a new engine, the RB211, for the Lockheed TriStar airliner. The engine was troublesome, the TriStar faced strong competition and RR suffered. In 1971, it had to be rescued, nationalised by the Heath government, as a result of which the car business was hived off in 1973 and is now owned by BMW.