Comprehensive Spending Review 2010: The key points
If you missed Osborne's big speech, fear not - MT was on the case. Here are some of the highlights.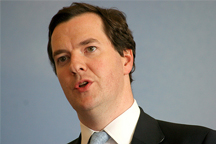 Today saw the release of the Comprehensive Spending Review - one of the most significant political events for many years. We'll be sifting through the small print this afternoon, and publishing more views and reaction. But in the meantime, here are some of the key points:
Average Whitehall cuts of about 19%
£7bn to be lopped off the welfare bill
£30bn to be spent on transport projects (inc go-ahead for Crossrail)
Real-terms increase in schools spending
Science budget to be frozen at £4.6bn a year (albeit that's a cut in real terms)
£1bn for green investment bank
An extra 75,000 apprenticeships
Retirement age to rise to 66 by 2020
You can look back at MT's live minute-by-minute coverage of Osborne's big speech here.

We've also got a handy Q&A on the issues involved - and you may want to check out today's latest borrowing figures, which are predictably gruesome.
In the meantime, do let us know what you think below.