Concern for Nike in Umbro pursuit
Nike had some cause for celebration on Tuesday after Brazil – whose national team has worn the famous swoosh for many years – was chosen to host the 2014 World Cup. But on the other side of the Atlantic, its pursuit of England's kit manufacturer seems to have taken a turn for the worse.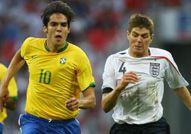 Mike Ashley, owner of Sports Direct and fully paid-up member of the awkward squad, has snapped up another 14% of Umbro, the company Nike is trying to buy for a hefty £285m. The City's favourite retail boss already owned a 15% stake – by upping this to 29.9%, he is now in a position to derail the Nike deal all by himself (since it needs 75% shareholder approval to go through) rather than by joining forces with rival JJB.
Ashley clearly doesn't mind ruffling a few feathers. The secretive Sports Direct boss has shown no interest whatsoever in cuddling up to the City since floating the business earlier this year, and he'll have no qualms about taking on Nike. And as Umbro's biggest customer, Ashley has more to lose than most. If it gets swallowed up by the world's biggest sportswear manufacturer, squeezing his supplier on price won't be so easy.
Still, it's not entirely clear what he's up to. He could be looking to scupper the deal altogether – but if it collapses now, anyone who has just bought a big stake at full price will be left sitting on a heavy loss. Alternatively, he could just be trying to force out a higher price, or even get a better deal on future shirt supplies (though this is a dangerous game given Sports Direct's reliance on Nike kit).