What connects Steve Jobs and Ray Kroc?
Apple and McDonald's were both born of true grit. Just see the movies.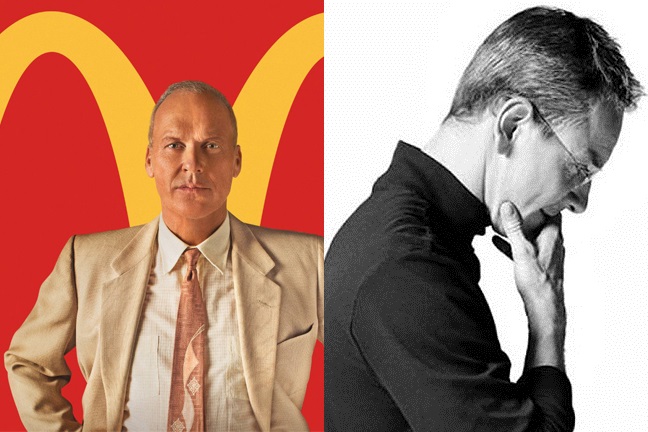 Just watched two films about business founders in quick succession. The first was Danny Boyle's 'Steve Jobs,' the second Michael Keaton as Ray Kroc in 'The Founder' about the creation of McDonald's. Two world-changing but very different businesses that took on innovative ideas had by other people. (A parts mix up in the production lines would create something interesting. Slice of gherkin in your Beats earpiece, anyone?) Both pieces of work are worth seeing, especially the former which is a minor masterpiece.
Neither individual is portrayed in a sympathetic light. Both are played in the complex shades of grey of the outsider who just won't fit in. Neither film is an out and out knocking job but the individuals are compelling in the way Satan is in 'Paradise Lost' or Macbeth in the Scottish play. Goodness writes white. The devil gets the best lines. Badness can be magnificent. Kroc is a grind-it-out opportunist who stumbles upon the McDonald brothers' hamburger store in San Bernadino and is enraptured by its efficiency, speed of production and simplicity. Jobs requires little introduction, although it was news to me that he may well have been conceived in Homs.
Both emphasise the cost to the family lives of their obsessive focus on the business. At the heart of the Jobs movie is the extremely dysfunctional relationship between Jobs and his daughter Lisa. He initially denied paternity and then is shown to have behaved appallingly to both his daughter and her mother. 'Steve Jobs' is brilliantly combative with an amazingly punchy script by Aaron Sorkin. The film's editor said it was like putting together a series of 'fight sequences.' Jobs falls out with almost everyone who stands in the way of his vision.