Containing it: Shipping's giant gamble
Chronic overcapacity already means too many fleets chasing too few cargoes, yet the container tycoons still pin their hopes on a new generation of Triple-E mega-vessels. Will the billion-dollar bets pay off?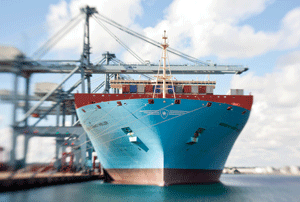 On 23 September, the Majestic Maersk steamed past Copenhagen opera house at the end of its maiden voyage, its 43,000 horsepower engines purring and its twin 9.8-metre propellers gently whirling.
The ship is one of the first of the new Triple-E fleet, which comprises the world's biggest container vessels. As long as four football pitches and as wide as an eight-lane motorway, these monsters weigh in at 165,000 tonnes, and each one can carry 36,000 cars, or 18 million televisions.
Danish giant Maersk, the world's largest operator of container ships, with a turnover of about £6.6bn per annum, will build 19 more of these $190m ships in the next few years. They will ply the trade route from Asia to Europe through the Suez Canal.