Controversial ex-banker Bob Diamond to return to the City
Bob Diamond, the former Barclays CEO, is returning to the Square Mile for the launch of a new Africa banking business.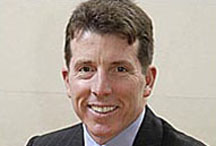 Since being ousted as the head of Barclays last year, Bob Diamond has kept a relatively low profile. However, he is now said to be on the verge of making a dramatic comeback to the City by setting up an Africa-focused banking group which will be listed on the London stock market.

Over the next fortnight, Diamond is expected to raise £153m from investors, which will then be used to buy a stake in an as yet unnamed African bank. Diamond is expected to list a cash shell called Atlas Mara in partnership with African entrepreneur Ashish Thakkar. Thakkar is the 32-year-old CEO of Mara Group, a conglomerate with interests spanning technology, real estate and agriculture across 19 African countries.
Diamond has long had interests in Africa, the location for much of his family foundation's work and a continent he considers ripe for strong banking growth because much of the population does not have access to banking services.

Once described as the 'unacceptable face of banking' by former business secretary Lord Mandelson, Diamond's decision to list in London may come as something of a surprise to City watchers.

Diamond was publicly forced out of Barclays in July 2012 after the bank's role in the libor-rigging scandal came to light. After the Financial Services Authority (FSA) made clear that Diamond no longer had its support, he resigned, swiftly followed by COO Jerry del Missier, and chairman Marcus Agius.

During his tenure at Barclays, Diamond's pay also came under repeated fire, earning him the moniker 'the unacceptable face of banking' after it emerged that in 2010 he had received cash and share awards that could net him £63m.

Since his departure from Barclays, Diamond has kept a relatively low profile as he seeks to rebuild his reputation. Last week it emerged that Diamond, along with several other senior former Barclays managers, will be called to give evidence in a high-profile legal case connected to Libor-rigging.

Guardian Care Homes is suing Barclays claiming the interest rate swaps it was sold should be cancelled in light of the bank's admission in its involvement with manipulating benchmark borrowing rates. Barclays's former top managers Chris Lucas, Rich Ricci and Jerry del Missier will also appear as witnesses.

In an interview with MT late last year, new Barclays CEO Antony Jenkins said: 'The truth is you can do 99 things well and only one thing badly, and everyone will focus on the one bad thing.' Does the same apply to Bob Diamond?