But we are cool, insist accountants
Accountants really aren't as geeky as everyone makes them out to be - according to accountants...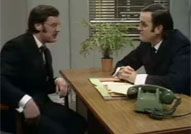 It's one of the most enduring stereotypes in the business world: ever since the days of Monty Python's Lion Tamer sketch, accountancy has become a byword for dull, straight-laced stuffiness. But now the grey men are fighting back: an indignant survey reports that accountants are actually a lot more dynamic, tech-savvy and generally 'down with the kids' than everyone makes them out to be. And if you don't believe them, they've got the spreadsheets to prove it…
The report, from tax and accountancy information provider CCH, 'exposes the gulf' between people's perception of accountants and the reality – or at least, the reality according to accountants. Take technology: just 28% of the public surveyed thought accountancy was a dynamic profession embracing new technologies, whereas 53% of accountants think their profession is the height of tech-savviness. Indeed, so achingly hip are accountants that a staggering 74% can use an iPod – miles more than the public's guess of just 59%!
What's more, accountants are also 'down' with social networking sites: 58% are apparently regular users (compared to the public perception of 44%). CCH reckons accountants are 50% more likely to have a Facebook profile than the average punter – 60% of those under 35 have a page, compared to the national average of 23%. Even if we ignore the inevitable socio-economic bias in that statistic, we're not totally sure whether this proves that they're cool, or the direct opposite (although it does go a long way towards explaining the existence of a 12,000-strong Facebook group called 'Accountants are Sexy').