How to cope with volatility, with YouTube
Lessons in how to avoid hitting the rocks, with Airplane!, Curb Your Enthusiasm and Life of Brian.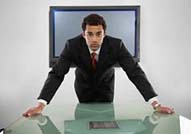 Regulate your own mood. Airplane! offers a couple of illustrations on this. First of all, panicking doesn't help anyone. Placate those who are struggling to cope. That said, when you're dealing with financial strife just as when you're trying to guide a plane home, it's important to appreciate the seriousness of the situation. Don't be too flippant.
Volatile times can bring out the worst in people. In Curb Your Enthusiasm, Jeff's timebomb of a wife Suzie always had a short fuse - made worse when she returns home to discover everything she treasured has been lost. Larry and Jeff find themselves on the receiving end of some fierce (and NB. rather foul-mouthed) retribution. Their approach: to keep quiet and wait for it to blow over.
A philosophical approach never did anyone any harm. Sometimes things go well, sometimes very badly. And when you're really in the thick of it, at least things can't get any worse. As Monty Python's Brian finds when he's on the cross in the most infamously optimistic scene of all time...