Cornish economy rides surfing wave
Hordes of Brazilians, Australians and Hawaiians have descended on the UK this week to show off their floaters and re-entries to the Nuts Boardmaster babes and excitable grommets. For the 90% of us who have no idea what that means, the Rip Curl Boardmasters surf contest has hit Cornwall.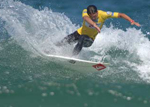 Of course we'd better not tell these contestants that for a guaranteed wave it would be better to visit the county in the winter, donning a six inch-thick wetsuit to guard against the paralysing cold and the various unsavouries they'll find floating in British waters. But there's clearly a buck or two to be made at the event. And that's good news for the Cornish economy, which is flatter even than its own summer surf.
Cornwall is one of the poorest areas in the UK, with a GDP per head at 75% less than the national average. Surfing contributes £40m to the county every year, and the event is expected to attract 20,000 people a day, a hefty addition to the tourist pound. Hence what was once a simple surfing contest has now ballooned into a week-long event, sponsored by the likes of Foster's, Land Rover and Vans. Music will be provided by bands such as Razorlight, and that edgy icon of the surfing counter-culture, James Blunt.
The Boardmasters champion takes home a prize of $100,000. A chunk of that will probably go to Ryanair in oversized baggage fees, in order to stow their surfboard on the return flight out of Newquay airport.