Corporate amnesia: Forget the past and you won't learn from it
Past disasters should be part of any company's narrative, says Nigel Nicholson.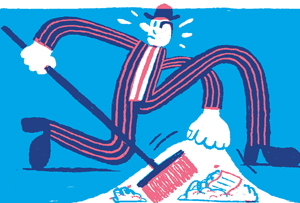 The way companies store knowledge, remember and retain their skills is important to their effectiveness. For example, excessive churn in a workforce, especially among knowledge-workers, threatens capability through the loss of their skills. And divisional labyrinths make it hard for organisational learning to be shared and acted upon.
Perhaps the most interesting kind of forgetting is the Freudian airbrushing of past errors, coupled with 'Merrie England' nostalgia. Too often, learning from failure doesn't happen because of the need to project a strong and confident self-image to stakeholders; the f-word (failure) is abominated, suppressed and forgotten.
This is a missed opportunity. Past disasters, should, in a spirit of humility and maturity, be part of the corporate narrative, which should project aspirational and realistic visions of an adaptive future. Tough learning is a form of corporate 'annealing', reminding us that experience is not what happens to you, but what you do with what happens to you.