Costa Coffee rubs another village up the wrong way
Residents of the Birmingham suburb of Moseley are angry about plans to open a new coffee shop.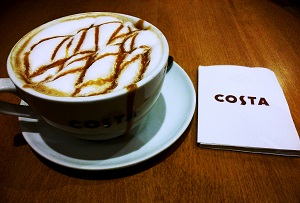 What is it about Costa Coffee that strikes fear into the hearts of middle England? The Whitbread-owned chain was famously forced to pull out of plans to open a shop in the proudly off-the-wall Devon town of Totnes in 2012 after local opposition, and has since faced similar dissent elsewhere.
Yesterday the Birmingham Mail reported that residents of Moseley, a suburb of that city, are angry about plans to turn a former Barclays branch into a Costa cafe. Locals are planning to launch a petition and have called on their council to stand up to the chain.
'Moseley is a unique place and as soon as it becomes overrun with stuff that you can get on every other high street you lose that,' local pub owner Keith Marsden told the paper. 'Costa Coffee is a billion dollar international operation – that isn't what Moseley should do. Moseley's strength is its uniqueness. If [this] happens, it will just be the same as everywhere else.'