Costa gives Whitbread profits a boost
Half-year profits and revenues at Whitbread are up thanks to a sharp rise in sales at the firm's Costa coffee chain.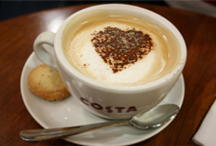 The hotel and restaurant group seems to be enjoying a healthy run at the moment. Group-wide profits (including the Premier Inn hotel chain) were up 1.5% to £192m compared with the previous year. That may seem like a small increase, but if you exclude a few one-off costs, the results are even more encouraging. Underlying profits are up 10.6% to £193.4m, with total revenues up 14.2% to £1.02bn. Not too shabby for trading in the middle of a recession.
So what part did Costa have to play in this caffeine shot to the finances? Underlying profits jumped a massive 29.9% to £36.1m, which means the chain has now enjoyed an uninterrupted 42 consecutive quarters of growth. That's more than a decade of continuously climbing revenues and profits. Investors must be surprised at the success of this business: you would think that expensive frothy/powered/wispy coffees and cakes may be a good-times luxury, but even in a credit crunch, cash-strapped Brits need a strong coffee to get through the day.
But Whitbread is growing like it hasn't even heard of the recession. It has opened 141 new coffee shops in the half-year period, as well as 1,591 new hotel rooms. Across the group it has created 1,500 new news jobs and according to its interim statement, it hopes to create another 10,000 jobs over the next three years.