Costa just fired a shot across Pret a Manger's bow
Britain's biggest coffee chain wants to gobble up a bigger share of the lunch market.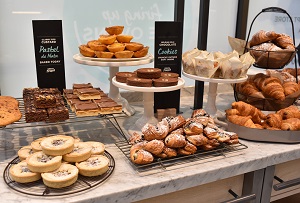 The lunch-to-go market is getting pretty saturated, especially in London. Walking around the capital it's hard to move without seeing the burgundy fascia of a Pret a Manger. The same is true of Greggs in parts of the north.
Now the coffee chain Costa wants a bigger slice of the action. Though its shops already sell paninis, toasties and cake, the company is trialling a new 'food-led concept store' that gives an insight into its potential plans for the future. Costa Fresco's menu 'features handcrafted ('handmade' not good enough?) ciabattas and pastries, warm melt in the mouth cookies and fresh fruit juices, all using quality ingredients'.
The chain hopes its range of 'rustico dry cured ham and mature cheddar flatbreads' and 'roasted pork belly with caramelised braeburn apple and onion ciabattas' will get the capital's office workers salivating. It also 'features designated zones for relaxing', which sounds like the least relaxed way to relax ever.