Côte D'Ivoire's Green Revolution
In spite of its huge agricultural potential, sub-Saharan Africa is a net food importer. But now, thanks to investment and training, farmers are starting to increase their yields.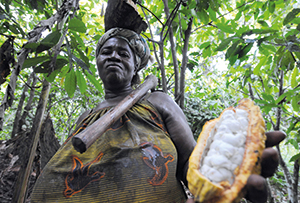 You don't often hear 'Africa rising' (that increasingly hackneyed phrase beloved of development conferences) in the same breath as agriculture. Urbanisation, manufacturing, mobiles are the buzzwords more likely to be bandied around in debates about the continent's future (at least in the west, where farming doesn't have quite the same ring as fibre broadband).
Yet the potential of agriculture is enormous. Africa has almost half the world's uncultivated arable land suitable for growing crops, while yields from land already in use are nowhere near their potential. Urban food markets in sub-Saharan Africa (excluding South Africa) are forecast to quadruple in value to more than $400bn (£273bn) over the next 15 years. If the region gets its 'green revolution', almost half a century after farm productivity exploded in India and Latin America, the World Bank thinks agriculture could more than treble in value to become a $1trn industry by 2030.
But there is a huge gap - at the moment agriculture contributes only 24% of sub-Saharan African GDP, but employs around 60% of the workforce and indirectly supports many more. The continent became a net food importer in 1981 and the balance is currently an eye-watering $36bn annually in favour of imports. The question, then, is how to get that revolution started.