Council tax cuts a sign of Tory things to come?
MT's local council has triggered a fresh debate about the right way to deliver public services...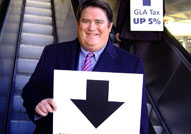 With national debt at an all-time high and government coffers looking decidedly depleted, it might seem a strange time to be cutting taxes of any description. But that's the plan here in MT's back-yard of Hammersmith & Fulham, where the Tory-controlled council plans to cut council tax by 3% for the fourth year in a row. Now H&F is not the only council proposing to cut or freeze taxes in the coming year, on either side of the political divide. But since H&F council leader Stephen Greenhalgh is an influential voice in Tory circles, the budget-trimming it's been doing to finance these costs does paint an intriguing picture of the Tories' possible approach to public services…

Cuts may sound reasonable enough, given that RPI inflation is in negative territory – and they might well free up a few extra pennies for Christmas shopping on MT's local high street. But financing them has come at a price: since the Tories took control in 2006, Hammersmith & Fulham council has cut 1,000 jobs, outsourced some services and put up charges for others (including some controversial ones: the cost of home help for the disabled and elderly has risen to £10.50 an hour, while meals on wheels have apparently gone up from £2.40 to £3.80 per meal). But H&F insists it's not adopting a 'no-frills' approach – it says it's also spent more money on policing, libraries and park services, to the extent that it's now one of the top performers in the UK.

Now Hammersmith and Fulham has paved the way, other prominent Tory strongholds such as Wandsworth and Westminster are expected to follow suit. And although this is inevitably being seen as a dry-run for what might happen if Dave wins the election, such moves aren't limited to Tory boroughs: Labour-controlled Hackney says it will become the first authority to freeze its council tax levy for the fourth consecutive year. Outside of London council tax will probably increase, but only between about 1% and 2% - the lowest increase in over a decade. So there's a growing debate about what and where to cut – and an ideological divide seems to be appearing.

However, the Tories can't have it both ways. An FT report this morning suggests that they're planning to draft in some business 'big-hitters' if they win the election, to bring a bit of private sector discipline to public sector departmental spending. But with the public coffers bare, the chances are these 'non-execs' would have to take a substantial pay-cut. We're all for opening up Whitehall departments to people with experience of running businesses – but whether any Government will be able to entice people of the requisite calibre, without paying a salary to match, remains to be seen.

In today's bulletin:
Banking revolution looms as RBS admits extra disposals
Ryanair plays hardball with Boeing as profits soar
Council tax cuts a sign of Tory things to come?
Coffee shops buzzing despite recession
MT Expert's Ten Top Tips: How to profit from the Next Big Thing