Counter-bid rumours sweeten Cadbury share price
Hershey and Ferrero are supposedly mulling bids that would keep Cadbury out of Kraft's clutches.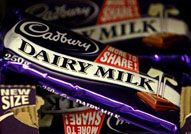 It's taken a while, but it looks as though Kraft has finally smoked out some rival bidders for UK confectioner Cadbury. US-based Hershey has apparently spoken to banks about financing a possible deal, according to the Wall Street Journal, while an Italian newspaper claims that Ferrero is also investigating some kind of bid, probably in conjunction with other partners (like Hershey, perhaps?). For Cadbury, which scornfully rejected Kraft's latest bid as 'derisory', anything might seem an improvement – although either outcome would still involve this famous UK company falling into foreign hands...

Hershey has long been considered an obvious bidder for Cadbury – it's a specialist confectioner, and already owns the licence to make Cadbury products in the US – but the consensus was that it couldn't afford it. Now the Journal reckons it's been talking to banks about raising the necessary cash; one option could be to hook up with Ferrero, its slightly smaller rival, which also lacks the firepower to bid alone (and has apparently been talking to private equity about joining forces). However, the Times reckons some of the Ferrero family would prefer some kind of tie-up with Cadbury that fell short of a complete takeover – thus avoiding the need to involve Hershey.

The good news for Cadbury shareholders is that stories like this give the share price a hefty boost. Analysts have been speculating about counter-bids ever since Kraft came in with its (seemingly low-ball) offer for Cadbury, but until now we've had nary a sniff. This morning, just the prospect of Hershey and/ or Ferrero getting involved has pushed its share price up above the 800p mark, making Kraft's offer (now worth less than 720p a share) look about as appetising as one of its processed cheese slices.

The question is, would either a Hershey or Ferrero takeover represent a better outcome for Cadbury than the Kraft bid? Well, Cadbury has made no bones about its distaste for Kraft 'low-growth, conglomerate model', making sniffy references to the quality of its food. So joining forces with a specialist confectioner might seem a better fit. On the other hand, any kind of deal would still presumably involve 'efficiency savings', i.e. job cuts, and possibly day-to-day control passing outside the UK.
So it might want to cross its fingers of fudge that Ferrero can come up with some kind of partnership deal. Just as long as they don't have to share its ad agency ('Ambassador, with this Curly-Wurly you are really spoiling us…')

In today's bulletin:
MT meets Marc Bolland - the new chief exec of Marks & Spencer
Archie Norman to the rescue at ITV?
Counter-bid rumours sweeten Cadbury share price
Mothercare (baby) booming as it plans expansion
Psychology at Work: Promoting well-being is not just a sticking plaster