Country living: the good life doesn't come cheap
People in rural areas in England need to take home up to 20% more than those in urban areas for a half-decent standard of living.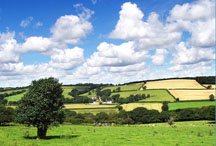 The Commission for Rural Communities has conducted a survey and found that someone in a remote village needed £18.6k a year to get by, compared with £14.4k for an urban dweller. So a villager has to earn about 50% above the minimum wage of £5.93 an hour to reach a minimum living standard. That may have a lot of aspirational urban types doing a U-turn in the 4x4 and confining it to the school run for a while yet.
The extra costs, it says, come down to transport and fuel. And there we were thinking that country idyll was the way to go: all that fresh air and honest labour. That's the trouble with dreams: practicalities often get in the way.
The research is based on what items people think households need to be able to afford to achieve a minimum acceptable living standard. So where does the difference come in? Surely a pair of wellies and a healthy taste for ale can't cost that much.