Country Profile: France's three-tier system
Business education in France is a three-tier system: the international schools, the regional establishments and the rest. France has a long tradition of business and management education, going as far back as the late 19th century, but not all the institutions are world class.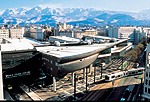 The cornerstone of French business education is its grandes ecoles. These prestigious establishments were set up expressly to train future business leaders, often with the support of the local chamber of commerce, in contrast to universities, which have a broader remit of free education for all.
Criticised for being elitist because of the fees they charge, the grande ecoles rely on a tough system of selection, the infamous classes preparatoires or prepas. These intensive two-year intellectual bootcamps prepare students for the competitive entrance examinations of the grandes ecoles.
Over the past few decades, these schools have developed strong links with the corporate world, as well as a powerful network of alumni. Grandes ecoles diplomas are now recognised as masters in management in Europe, and they are some of the finest available. In the FT rankings (see below), seven of the top 10 masters in management in Europe are French. Employers in France and abroad also rate the programmes. Most grandes ecoles display an impressive employment track record - not far off 100% within six months of graduating.
But for many years French schools have failed to take heed of the rest of the world. France was one of the last countries to embrace teaching in English, which severely limited its appeal to overseas students. Visa restrictions also complicated matters further. Almost a quarter of students in French business schools are now from abroad, and most schools are working overtime to boost their appeal to foreign students.
But Thierry Grange, dean of Grenoble School of Management, says that although French business schools have established how good they are, they haven't done a very good job at advertising it. Only a couple of institutions have managed to develop a global brand - HEC (Hautes Etudes Commerciales) in Paris and INSEAD - and they have done so with their MBA programmes. Both are now rated in the world's top 25. Only one other French school, ESCP-EAP, makes it into the global FT MBA ranking at number 99.
INSEAD does not even consider itself French. Antonio Fatas, dean of the MBA programme at INSEAD, says that its location in Fontainebleau (south of Paris) is accidental. "We could have been anywhere," he says. And indeed the school's other campus is in Singapore. Only 11% of its MBA students are French, most of its faculty is international, the teaching is in English and the companies studied international.
Bernard Ramanantsoa, dean of HEC, says that MBAs have always resonated with French business leaders. The MBA programme at HEC was created in the 1960s both to stem the flow of students to US business schools and to offer a different proposition to the US MBA model. INSEAD was established in 1957 for the same reason.
Many schools have now jumped on the MBA bandwagon, with varying degrees of success. ESSEC Business School Paris, for instance, is promoting a 'junior MBA' format based on its grande ecole programme, while other schools have gone for MBAs in specialist subjects, such as leisure and hospitality.
However, programmes such as those at ESSEC have their detractors, who argue that they abuse the concept of the MBA, which is usually taken after several years' work experience. ESSEC, on the other hand, says it had anticipated the trend for younger MBA students and created new teaching avenues.
Most observers agree that the market is becoming saturated and that supply outweighs demand. Accreditations and rankings now seem to be a default attribute rather than a true selling point. But Grange points out that French business schools make up the largest national group in EQUIS and AACSB-accredited establishments outside the US and Canada.
Ramanantsoa says that the competition is healthy and keeps schools on their toes. But he also points out that not all schools have the vocation or capability to be a global player. "Every brochure from every business school says 'international' these days; it's become a fad," he says. "But employers are not fooled. They know how to tell the difference."
The French labour market
Franaois Bonvalet, dean of Reims Management School, recently asked during a trip to China what his hosts thought of France. The answer: rather bright, sometimes arrogant and often lazy. As the only country to have reduced its working week over the last decade, the comment doesn't seem unfair. The irony with the 35-hour week, introduced in 2000, is that it has achieved little of its original goal - reducing unemployment - and has instead cost a fortune. It has also, it is claimed, caused staff shortages and increased daily workloads.
Pierre Tapie, dean at ESSEC, says the 35-hour week had a highly symbolic meaning when structural unemployment in France was high. The mistake, however, was to imagine that work could be shared on a global basis, when growth is the engine of job creation. The initial aim was to create 700,000 jobs; instead, estimates of 200,000 seem more realistic.
However, many economists claim it was the accompanying reduction in taxes that spawned jobs rather than a cut in working hours. Under the incentive scheme, employers obtained a cut of up to 85% in social taxes for moving to a 35-hour week. These taxes, which finance France's welfare state, add about 50% to the cost of employing a worker.
The law has also added EUR100 billion to the national debt (employees still get paid for 39 hours) over the past five years, and companies have had to foot the administrative bill. France's national debt has tripled in three decades to more than EUR1 trillion.
"The problem with the 35-hour week is not really the number of hours worked. It's a problem of value added. At BMW, they work 32 hours, but they create a lot of value in that time," says Grange. "The problem in France is that the 35 hours were applied to everyone as a blanket statement. It's France's great regulatory flaw."
A case in point is the hospitality industry, which had benefited from an exemption because of the need for more flexible working arrangements. But a high court ruling last October against the exemption has caused concern among cafe and hotel owners.
However, the law has been diluted: in 2005, private firms were allowed to increase working hours and private sector workers allowed to convert extra days off into wage rises or pension contributions. But the law still applies in the union-dominated public sector and remains the standard working week in the private sector. Six years after its launch, it is clear that it enjoys strong support. Longer, paid holidays have, of course, been very popular - for those able to take them.
The working week is the central topic of next year's presidential elections: Socialist leader Segolene Royal has been a strong supporter of the system, although recently she has been more circumspect, calling it "a regression" for some workers. Interior minister, and presidential hopeful, Nicolas Sarkozy has backed a return to the 39-hour week - something President Chirac, fearing the wrath of the unions and the middle classes, has not been willing to sanction.
European Masters in management rankings, FT SEPTEMBER 2006
1. HEC, Paris
2. Cems (comprising 17 European schools)
3. ESCP-EAP, Paris
4. Grenoble EM
5. EM Lyons
6. ESSEC, Paris
7. Edhec, Lille/Nice
8. LSE, London
9. Stockholm School of Economics
10. Audencia EM, Nantes

European Business Schools Rankings, FT DECEMBER 2006
1. HEC, Paris
2. London Business School
3. IMD, Lausanne
4. Instituto de Empresa, Madrid
5. IESE Business School, Madrid/Barcelona
6. ESCP-EAP, Paris
7. RSM Erasmus University, Rotterdam
8. Cranfield School of Management, UK
9. University of Bradford/TiasNimbas, Bradford/Utrecht
10. INSEAD, Paris/Singapore